About

us

Partners Lawn Care is a leading lawn care service company—specializing in green, healthy, weed-free lawns. Professional lawn care service gives you more time to enjoy your beautiful, pest-free lawns. Lawn care is our specialty.

"Together We'll Get Results!" Guaranteed!
company

profile

Our family-owned business has been providing excellent service to our customers since 1997. We take pride in our relationships with customers and appreciate that so many refer us to their family and friends. Partners Lawn Care is a boutique company that is small enough to know its customers by name, but large enough to take care of all their needs. Let us take care of the hassle of treating your yard, so you can sit back and enjoy a beautiful pest-free lawn.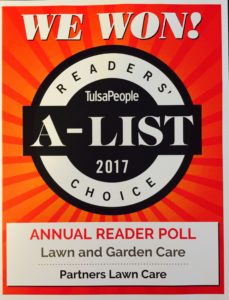 Meet

Greg

For more than 25 years, Greg Castillo has used his industry experience to build a referral-based lawn care service. Having graduated first from Jenks High School and later from Oral Roberts University, Greg is a true business leader and understands that building relationships with his customers is the key to a successful business. As owner and operator of Partners Lawn Care, Greg takes great pride in his work and the business he has built. He still spends most of his days working in the field so he can guarantee the quality of service that Partners Lawn Care provides.